Pulmonary
Recurrent Pneumonia
Recurrent pneumonia is a frequent complaint of people seeing an allergist. It is defined as two or more separate episodes of lower respiratory tract infection. These infections are often accompanied by fever, an elevated number of white blood cells, and sputum production. In children, recurrent pneumonia often turns out to be directly related to asthma. Generally, healthy individuals do not get true recurrent pneumonia. If a patient has true recurrent pneumonia, there is almost always something seriously wrong with the individual that needs to be investigated thoroughly. Potential underlying health issues include the following:
Immune deficiency disease
Recurrent aspiration
Cystic fibrosis
Chronic bacterial infection of the lungs
Hypersensitivity reactions
Fungal lung infections
Cancer
Tuberculosis
Poorly controlled asthma

Cystic Fibrosis

Pneumonia
If you have recurrent pneumonia, contact Dr. Bray to set up a comprehensive review of your health status.
Bronchitis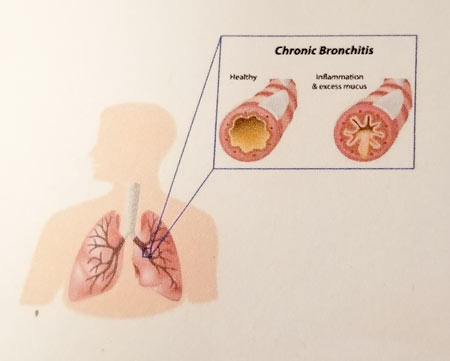 Bronchitis is the inflammation of the lining of bronchial tubes which carry air to and from the lungs. Mild post viral bronchitis (like after a cold in the winter) is associated
with coughing and mild sputum production. This usually resolves quickly and is nothing to worry about. However, recurrent or chronic bronchitis is not normal and needs to be properly diagnosed and aggressively treated. The most common reason for chronic bronchitis is smoking. In this case, the obvious treatment of choice is for the patient to stop smoking; Dr. Bray can help you do this.
In children and nonsmokers, the most common problem diagnosed as bronchitis is actually mild or moderate intermittent asthma. Generally, healthy children and adults do not get true recurrent bronchitis, and underlying health issues could be the culprit. Possible causes of recurrent bronchitis-like illness include the following:
Congestive heart failure
Asthma
Tuberculosis and other respiratory infections
Bronchiectasis
Cystic Fibrosis
Neoplasm of the lung
Pulmonary embolism
Reflux & pulmonary aspiration
Chronic sinusitis with post nasal drip
CONTACT US for more information.